About computer-generated transcripts
Automated transcripts are available for any type of event - Live, On-Demand, and Simulated Live. Automated transcripts are great for capturing the event audio in a file for your own use and for providing synced captions with a searchable transcript for people watching the event recording. You can also allow attendees to download the transcript.
The system uses the event audio to generate the transcript, including primary media clips and overlay videos. Generated transcripts are available within 24 hours of a Live event ending or a recorded event being published.
Note: Automatic transcription and key phrases might not be available on your account. To request these features, contact Support or your sales representative.
To generate an automated transcript for an event, go to the Event Content tab and open the Add Automated Transcript section.
Edit the recording and update the transcript
After the event has been published or archived, review the recording and make any edits to the event content. Publish your changes to update the event audio and transcript timings. The system processes the event recording, generates a new version of the transcript, and republishes the event. This is an automated process, so you can edit the event and republish the recording as many times as you need.
Review the transcript
The transcript is computer-generated, so review the transcript for accuracy. To edit it, open the event in the editing studio and click Transcript. When finished, click Save Draft before you close the Edit Transcript window and then republish the event.
Examples
Viewers can open the full transcript in a separate panel and search it.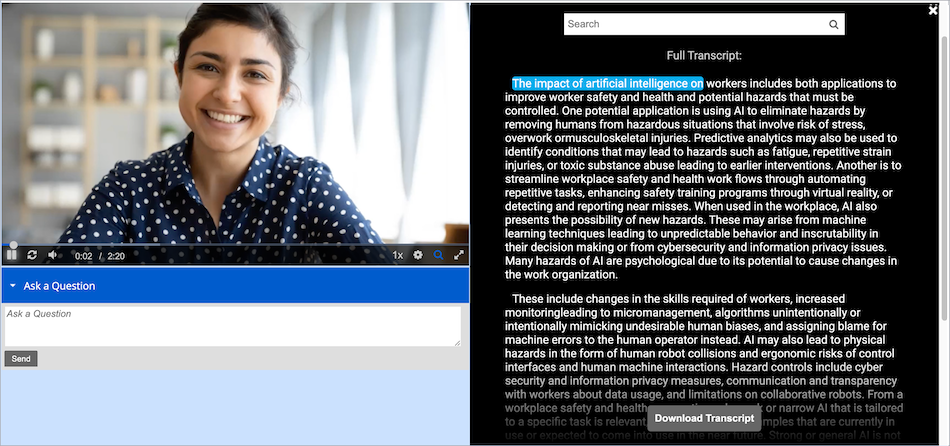 You can also show the generated transcript as scrolling captions under the video player.